There's still hope out there, folks, for those of you who have verged on despair over the secularism, materialism, and the "I want-ism" of your kids over the last few weeks but that hope won't be found in many Blue States. 
Hope can be uncovered in some Blue States but only after tireless and diligent excavating and even then only in moderation.
KFYR-AM, "the voice of the Northern Plains," is one source of Christmas-greedism-overload relief.
That radio station featured this Christmas video of a boy searching for the real meaning of Christmas and he didn't find it with Santa or the latest i-Pod innovation or a new Wii game or by sexting an elf-ette.
The free video is 2 minutes in length and readers can purchase the rest but it's really not necessary.  You might want to have your kids write the ending as an exercise of their Chrisxmas spirit or what that spirit should be: http://www.bceshow.com/
Further west, in the belly of the beast, a Redding, California substitute teacher was far more bodacious in her objections to "working in [public] schools where students aren't allowed to sing Christmas songs that are religious in nature." 
Aptly named and christened Merry Hyatt is proposing "a ballot initiative that would require all public schools in California to give children the opportunity to sing or listen to Christmas carols:" http://bit.ly/58pPQS
The first order of business here should be to give Merry a sanity hearing, not for her proposal but for her clear intent of committing teaching-substitute suicide by advocating a return to the age-old Christian tradition of America's private–and public–schools celebrations of the holy holiday of Christmas in song.
The second order of business will be left to the ACLU and like anti-American organizations who will fight to your death to defend our Constitution's alleged prohibition against an intermixing of church and state, what they claim is a strict prohibition against anything smacking of religion and especially of Christianity.
I defy any of that ilk to find any language in our Constitution to that effect. 
Nevertheless, the fight goes on and will go on in perpetuity until America returns to its Christian roots, those same roots that made us what we are, or were up until January 20th, 2009 when a usurper took office as president and made the battle against Christmas a full-fledged war.
That struggle isn't as much a struggle for a national holiday as it is a struggle for a national soul.  As of now, the "Christmasers" are losing the struggle.
We're winning a few skirmishes but losing the war because far too many on our side are content with applauding the skirmish victories without replicating them.
Case in point is my wife's war against Capital One Bank.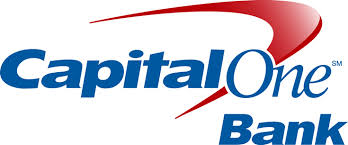 As long term and so-called valued members of the Cap One family, we carry a modicum of weight amounting to as much of our money resides in a Long Island Capital One branch.
But, leverage is leverage, right?
So, the wife used that leverage two years ago, registering a very polite complaint with a bank underling concerning the presence of a very impressive menorah
  and the obvious absence of a nativity scene.
Told that a Christmas tree and a Santa Claus were displayed and that the bank never favors one religion over another, the underling added that Cap One catered to local demographics but absolutely would never permit religious exhibits.
The bride tried to edumacate the poor thing by pointing out 1) the "Christmas tree" origins can be traced back to Roman, Greek, and Druid pagan traditions, 2) Santa, as dear as he is, is the ultimate secularlist, 3) the local populace is largely Polish Catholic, and 4) the 7-branched candelabrum, the menorah, is a distinctly religious symbol of Hanukkah, Judaism, and of Israel.
Long story short, following a few letters addressed to principals at Capital One, in 2008 a nearly invisible creche was displayed followed in 2009 by a nativity scene rivaling the menorah.
Point is, it CAN be done! 
A Boca Raton pastor apparently got the message in dealing with an identical situation of a menorah and no nativity scene on the grounds of a public library. 
He gave a creche to a librarian who promptly rejected it.  Rev. Mike Boykin then placed it under the library's Christmas tree where it should have been in the first place.  Read the story and view the video here: http://bit.ly/7GyBf6
There are millions of Christmas stories.  Too many of them reflect divisiveness rather than peace on Earth and good will to all mankind.