Malik Zulu Shabazz may have been the New Black Panther thug who said to a white observer outside a Philadelphia polling place on November 4th, 2008, "Now you see what it's like to be ruled by the black man, cracker!"
Shabazz could only hope but he hadn't seen nothin' yet, cracker!
His fondest wishes came true when, with his help, a fellow black man became president and named another black man, Eric Holder,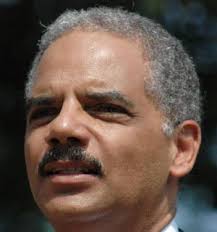 to run America's Justice Department. 
Methinks yo' ain't seen nothin' yet, Shabazz, to gladden the hearts of black racists everywhere.
Former election lawyer in the Civil Rights section of the DOJ, J. Christian Adams, a longtime employee of the Justice Department and a man with a conscience, testified before the U.S. Commission on Civil Rights that, in essence, Attorney General Holder's department was a black racist entity that would only enforce civil rights laws against white people.
See "Racism at the DOJ  Part One," http://www.genelalor.com/blog1/?p=1764, and "Racism at the DOJ  Part Two," http://www.genelalor.com/blog1/?p=1765
Adams was immediately cast by Holder's DOJ as a disgruntled employee, and a conservative at that, and we all know conservatives are venomous misanthropic racists who would sooner run over a black man as help him.
Well, apparently, there are other racist, misanthropic former Justice Department employees who would sooner expose the DOJ's racism as tolerate it: "These former DOJ employees have expressed a willingness to go on record regarding Adams' professionalism, excellent performance, and outstanding record of enforcing the law without racial bias.  Additionally, they would like to corroborate Adams' statements about the DOJ."
Former Deputy Assistant Attorney General in the Civil Rights Division of the DOJ, Asheesh Agarwal, attests to the "unsurpassed quality of his [Adams'] character, judgment, and commitment to the cause of civil rights on behalf of all Americans."  That commitment applied to black, hispanic, and white people.
Other Adams supporters include Mark Corallo, former DOJ Director of Public Affairs and Robert Driscoll, former Deputy Assistant Attorney General: http://tiny.cc/tsr2z
That's not exactly a shabby list of supporters who concur that the United States is currently in the midst of a sea change in its concept of freedom and justice for all.
It seems also that America is in the midst of what Mr. Shabazz said.  We're seeing what it's like to be ruled by a black man.
More in Part Four on what that "cracker," J. Christian Adams, testified to.  All fellow "crackers" should pay close attention.