I can't exactly say I had teachers as much as I had commandants in my formative years; I was taught by Sisters of Charity nuns who, too often, were less concerned with charity and teaching than with disciplining rambunctious male students.  
Still, thanks to the good nuns' rigidity and penchant for incessant drilling and memorization, I feel I received a better education than kids who attended South Bronx public schools–an education devoid of left-wing teachers and liberal propaganda.
Back then, the early and mid-1950s, the NYC public school system was noted for excellence–and also for a marked liberality with regard to student behavior and instruction, a liberality my Irish parents abhorred and, so, I was consigned to the local Catholic school.
Things have radically and negatively changed in both parochial and public schools over the last 50 years.  Although those changes have infected Catholic education, they are most pronounced in the public sphere.  
Aside from the National Education Association and teacher unions, few would contest that  America's public educational system is in a sorry pickle. 
We manage to produce a number of excellent students who outshine kids in other areas of the world, but they're relative rarities. 
The United States spends more on education than the rest of the planet combined yet a recent analysis showed we rank 29th in problem solving, 28th in math, and 22nd in science among 41 industrialized nations and some areas where the abacus was in use not very long ago out-performed American students.
For the most part, American schools are turning out semi-literate graduates who excel in unfounded self esteem but who can barely read or count.  
(See "You're Not Special," http://www.genelalor.com/blog1/?p=25302, for details on one high school commencement speaker who told students where to go with their hyperinflated self-esteem.)
Our students may not be special but they have learned a great deal in certain fields which won't help them much as adults or in their worklives, except perhaps in their bedrooms or should they work for lecherous employers.
Many have learned a great deal in their sex education classes and from predatory male and female teachers who practice a hands-on approach–pun intended–to instruction, but little else.
Some public schools throughout the country have become hotbeds–another intended pun–for seductions by gay and straight pedophiles posing as professional educators.  Mayor Mike Bloomberg's New York City is the clear leader of the perv pack but by no means owns exclusive claim to that dubious title.  
In at least one instance, black male students vied for the opportunity to bed–in black  jargon, "get with"–a 26 year old white, female, now-former Global Studies teacher. 
  Preface to the latter occurred outside Manhattan Theater Lab High School in NYC and, although there is no substantive proof that student Eric Arty scored with teacher Julie Warning, Arty did win a $500 bet with his buddies that he could "get with" Ms. Warning first. 
See the full story and video of their public warm-up in a Manhattan park near Ms. Warning's school: http://tinyurl.com/7pjryt2.
Were the Arty-Warning affair the lone instance of teachers and students run amok at the urgings of their hormones, it would still be reprehensible.  However, Julie Warning has numerous fellow teachers and school administrators who are equally reprehensible.
Among various other assignations in recent months: Kacy Christine Wilson, a 28-year-old teacher at Osceola High School in Kissimmee, Florida pulled a 16-year-old male student  out of class to have sex with him in a closet; twenty nine year old Jeffrey R. Sears Jr. allegedly had sex with 15 and 16-year-old students in his Baltimore classroom, in his car and at his home and was accused of having a "sexual encounter" with a student in a school stairwell; Pennsylvania's Nicole Jacques is accused of having illicit sexual intercourse with her 15-year-old student several times in her apartment though not at Calvary Baptist School where she taught.  (http://tinyurl.com/6qovdy9) 
Then there are the examples of administrator improprieties not involving seducing kids but of sheer imbecility. 
In that category: Coney Island's PS 90 Principal Greta Hawkins forbade her elementary school children from singing Phil Greenwood's "God Bless the USA" but allowed Justin Bieber's "Baby" and Hamilton Heights Principal Nicky Kram Rosen mandating that fifth graders study Arabic instead of Spanish or French in order to increase PS 368′s prestige.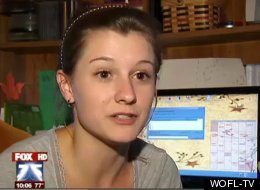 Demonstrating that New York isn't alone in administrative malpractice, Lake County, Florida Umatilla High School senior Stormy Rich was punished for bullying.  Her offense: defending a mentally-challenged girl from bulliers.
Stormy said the middle school child's bus-mates "would tell the girl that she couldn't sit in certain seats on the bus and would force food in her mouth.  I actually had to tell her to spit it out because she didn't understand."  Ms. Rich's intervention after the administration refused to do anything about the vicious bullying cost her a seat on the bus. (http://tinyurl.com/7xvsk6q) 
We can only hope that these examples of teacher predation and administrative stupidity are mere blips on the public education scene.  However, based on their widespread and repetitive nature and the mediocrity of the current crop of educators, as often detailed in this space, that's as vain a hope as wishing for true education reform.  
One cure would be old nuns with yardsticks.  Another might be Obama's Education Secretary Arne Duncan, the man who dictates America's education policies, actually teaching for a few years or even one year.